Flexo Doctor Blade Systems
Allison Systems manufactures both chambered and single-blade doctor-blade Systems for all Flexo applications. Click below for more information.

Replace worn out or damaged OEM chambers with quality Allison chambered doctor blade systems. Allison Systems' chambers are operator and anilox friendly and will provide repeatable doctoring results job after job. For new installations, custom designs are available to fit most press conditions.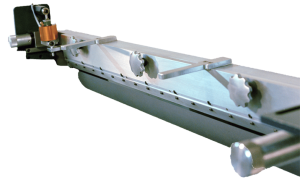 If you have an in-line flexographic press and use a fountain roll for ink metering, an Allison reverse angle blade system helps you achieve improved ink distribution that is repeatable from job to job. Allison reverse angle blade systems can be adapted to fit most presses and applications. And, if required for operational flexibility, the fountain roll can be retained.