Offering Doctor Blade for Flexo Printing and
Gravure Printing and Coating Applications
At Allison Systems Corporation, we proudly carry a wide variety of doctor blades for flexo printing and gravure printing applications. As your dedicated doctor blades supplier, you can count on us for top-quality blade materials for high-performance presses running various inks and substrates.
The function of the doctor blades is to remove ink or coating from the surface of the engraved gravure cylinder or flexo anilox roll so that the only ink or coating remaining on the cylinder is that which is contained in the engraved cells.  Ideally, the doctor blades will perform this function consistently throughout the entire press run to help ensure that the first image printed is identical to the last image.  Allison sales representatives have the knowledge to match our various doctor blade materials and edge shapes to your application so that you can be sure the doctor blades you are using will perform as expected.
Call us at (856) 461-9111 for all the doctor blade products you need to keep your presses running efficiently.
Steel is the material of choice for high-quality and repeatable doctoring results.
Carbon steel blades are a good economical choice when used with short-run process jobs on non-porous substrates and inks that are not very abrasive.
Long-life tool steel blades are excellent for use with abrasive inks, such as white inks or other inks with high percentages of titanium dioxide, solids, or rough anilox rolls.
Coated carbon or long-life tool steel blades are used to improve blade performance, increased lubrication, and provide corrosion resistance.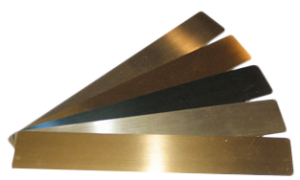 For Flexo, Coating, and Gravure applications our composite and plastic blades are designed to offer cost-effective performance for specific needs ranging from flexo containment blades to high-speed gravure printing.
Allison Systems produces a variety of both composite and specialized plastic doctor blades to meet your needs for flexo doctoring, flexo containment, gravure, and specialty applications.
Composite doctor blades are used on laser-engraved ceramic anilox rolls and provide longer life at high speeds when compared to carbon or stainless steel blades.
For doctoring applications, plastic blades have to be thicker than metal or composite blades to provide the same rigidity.