Flexo Single-Blade Doctor Blade Systems
If you have an in-line flexographic press and use a fountain roll for ink metering, an Allison reverse angle blade system helps you achieve improved ink distribution that is repeatable from job to job. Allison reverse angle blade systems can be adapted to fit most presses and applications. And, if required for operational flexibility, the fountain roll can be retained.
Based on a computer model of your press configuration, our single-blade flexo systems are designed to achieve optimum doctor blade wiping angles. Our designs eliminate problems that are commonly found in blade holders and blade systems and allow you to easily repeat optimal blade settings each time a job is run.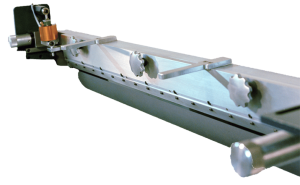 Typical features include:
Mounting brackets that are custom designed to mount on your anilox roll carriage.
The pneumatic actuation system provides consistent and repeatable application force.
Doctor blade alignment knobs to achieve precise blade-to-anilox alignment.
Easily removable blade holder to accommodate off-press holder cleaning and blade changes.