OEM Replacement or Custom End Seals for Your Needs
The team at Allison Systems Corporation proudly offers  various doctor blade related products to ensure our clients have the high-performance tools and materials they need to meet production standards. This includes an impressive assortment of end seals regardless if they are OEM replacement  or custom parts. Our end seals are made using cutting-edge, CAD equipment that is designed for cost-effectiveness and repeatability while providing a superior product when compared to die cut equipment. Most of our end seal designs can be replicated with a quick turnaround. For your needs, we work with a variety of materials, including, felt, foam, and rubber, as well as composite configurations.
We are committed to giving our customers the right materials for their printing applications. Rest assured that you'll always find top-quality doctor blade and end seals for high-performance presses running various inks and substrates when you turn to us. Call us at (856) 461-9111 to speak to a member of our team about our quality engineered printing solutions.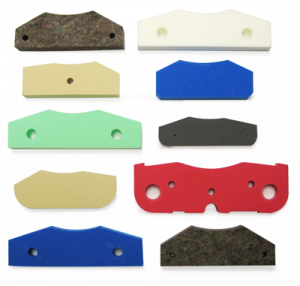 Allison Systems Corporation can provide a varied selection of end seals, from OEM replacements to custom work.
Parts are cut from state-of-the-art high-speed, CAD-driven cutting equipment.  This allows for design repeatability, easy customization, and cost effectiveness.  They are not die cut, as the compression needed can cause warpage, concave edges, and chamber leakage.
Most end seal designs can be replicated, with quick turnarounds.
We work with a variety of end seal designs in various materials, such as foam, rubber, felt, and composite.
We also have chamber-specific end seals, such as PCMC, Tresu, and W&H.
Here is how to get started!
Contact us to help determine your needs and the best way to provide assistance. We may ask you to send us an unused end seal.