Gravure Doctor Blade Systems
For today's rotogravure applications, doctor blade control must be fast and foolproof, with none of the guesswork, mechanical problems, or start-up waste typically attributed to doctor blade performance. These gravure doctor blade systems often do not offer the precision force control, repeatability, position control, and quick blade change capability needed to avoid high operating costs.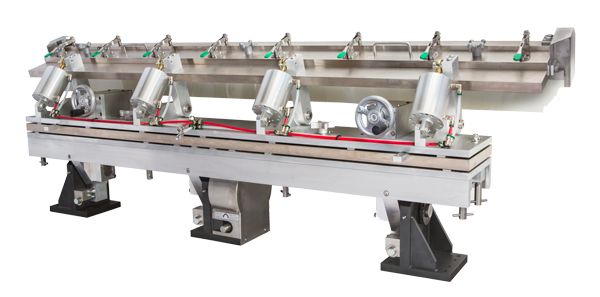 Allison Systems can replace your entire doctor blade system when required with a custom-made gravure system, which can also include an independent oscillation component.
Allison's doctor blade system for gravure printing is pneumatically controlled for reliable and repeatable operation.
Our gravure doctor blades system can achieve optimum doctor blade wiping angles using a computer model of your press configuration. Our designs eliminate problems commonly found in blade holders and systems, allowing you to easily repeat optimal blade settings each time you need to run a job.