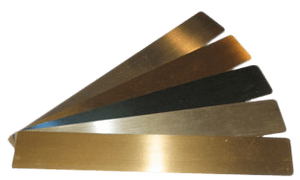 Gravure and flexography printing have enabled printing companies to produce more and improve their processes. As machine-oriented processes, these printing methods require sophisticated equipment and materials to deliver the best possible results. The doctor blade is one component that allows printers to produce brilliant materials. Learn how Allison Blade Company utilizes its blade printing services to help customers attain the best possible results.
The doctor blade is a component that wipes away excess ink and similar material from moving parts. Essentially, it ensures the clean and precise transfer of inks in high-speed printing processes. It is a smart addition to a press since it leads to consistent, quality results.
Our blade printing services produce blades in different materials. Metal doctor blades are a smart and economical choice thanks to their versatility. The steel is available in various grades to accommodate different inks and substrates, as well as coatings to lengthen performance life.
Blades made from plastic and composite materials are also available, providing cost-effective performance in a variety of printing applications, such as high-speed printing. Upgrade your printing equipment and consider adding doctor blades to your production line. To learn more about our products, you can give us a call at (856) 461-9111 or send an email to sales@allisonblades.comm.