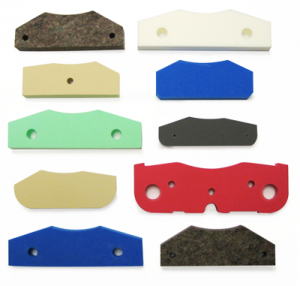 When it comes to Doctor Blades, knowing which ones suit your printer can make a huge difference in its printing quality. That's why companies like Allison Systems Corporation provide a vast inventory of sizes and materials so you can find the best end seals for flexo printing. Make sure your flexographic printer gets only the highest quality replacement parts to ensure you get the most from your printer.
Given the unique shape of the flexo printer, getting the right shape and size end seals are essential to ensure everything is working properly. There are ten crucial things to remember about these products:
When ordering end seals for flexo printing, make sure they are made of a material compatible with the type of ink or coating being used, the length of the run, and the press speed.
Several new flexo end seals come with coatings and multiple material combinations (two-part and three-part).
It's crucial to know that not all felts are created equal.
Foam end seals are still a top-rated and cost-effective solution.
Flexo end seal materials can come with different durometers or compression ratios.
A good seal design for a proper fit is vital to minimize chamber leaking from gaps.
When installing, make sure your seals are not too tight to cause distortion when put into the chamber.
The condition of the anilox roll can also play a big role in chamber leaks.
Doctor blades that are too short or too long can be another source of leaks.
Many new chambers come with specially molded rubber seals.
Contact Allison Systems Corporation today for more information about their products and services.