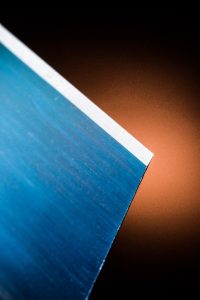 Your printing business depends on meticulous attention to detail because it's the little things that make a huge difference when you're printing thousands of impressions for an order. One tool that many printers find invaluable is a doctor blade to control the thickness of the ink film. These blades are of great importance to reducing waste as they play a crucial role in achieving accurate metering and consistent results.
Your goal is to get as many copies as you want of a label,  package, or brochure. You also want these copies to look the same as far as quality and color go. You don't want to throw away printed materials because the color  or appearance is variable, rather than consistent.  The correct doctor blade is an essential tool that gives your company the advantage.
Whether rounded, standard, or  Superhoned®, a doctor blade that fits the needs of your printing press is essential for performance. You need a reliable tool with the edge that produces results. As printing is changing continuously, your company must respond with products that result in higher quality products for your customers with less waste and higher efficiency for you.  Contact the team at Allison Systems Corporation for more information about our products.