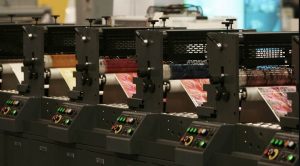 Your printing job is only as good as the quality of materials that are used to create the product. That applies to every element at each step along the way, from the design to the inks, substrate, and other components to the press itself.
Your printing company can truly only control some of those steps along the way, not the entire journey itself. However, the elements you can control, like the performance of the press, benefit from your full attention to detail and professionalism. When you examine the first piece off the press and the last piece off the press, it's your ultimate goal for the two to be indistinguishable with the quality just as high from first to last.
Allison Systems will help you maintain your company's reputation for quality by providing doctor blades that perform flawlessly on each job. There is no worry of streaks or imperfection in the images due to blade defects with Allison doctor blades which are manufactured under our ISO9001:2015 certified quality management system.
As a busy print shop, you go through many blades and need a trusted, affordable source for quality components.   Allison Systems offers a range of materials from metal to plastic to composite in a variety of edge shapes. In this way, you are sure to get the exact blades you need for your application.