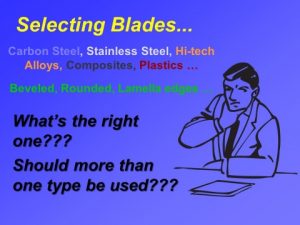 When it comes time for doctor blade replacement, you may be wondering if another type would work better on your press, or if you should simply keep ordering the same type you've been using all along. There are many options on the market ranging from plastic blades to  composite to metal. Our team at Allison Systems has assembled a few points for consideration to help you make sure you get the blades you require for your printing application.
Consider your roller material, the length of the press runs you typically require, and the abrasiveness of the inks you use and that will give you a solid starting point for consideration of which blade material you should purchase. You will want to look at blade edge shapes as well to obtain good wiping characteristics and reduce ink leakage.
You also need to think about the product and the substrate being used.  High-end graphics or line work?  Paper, film, or corrugated substrate?  All these points need to be considered when choosing a blade.
Allison Systems will offer blade selection guidance by working with you to choose the right blade for your application as well as diagnosing any issues you are having with your current blade.  Learning about your current blade performance can help you to make decisions about any future changes.  A blade analysis is often part of this process and gives insight into the alignment and contact angle of your blade thereby allowing you to make setup improvements if needed.  Allison Systems will also provide sample blades for testing with your application to verify the chosen blade is effective for you before you commit to an order.