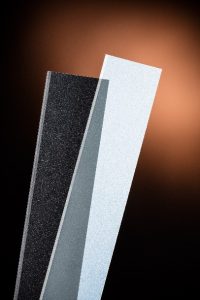 When it comes time to choose doctor blades for your printing press, you've got some decisions to make. Are you going to use metal or go with a different material, such as a composite blade. Whatever you decide to use, choosing the right blade for your print application is an important step.
Composites can be a smart selection as they provide long life at high speeds as compared to some other materials. Look at the type of products you print, and that will help you make the decision. If you need fine screen metering with a ceramic anilox roll, then a composite, such as Allison Systems' Fiberglass Plus, is a good choice that is effective with most water-based inks including those that are abrasive or have high solids content.
Take a moment to think about what types of printing you do most often. Composites are ideal for line work and some process jobs on paper and board substrates. Composite blades which are blended with graphite are ideal for higher-end graphics on corrugated materials.
Allison Systems will offer blade selection guidance that will help you make the most effective decision on a replacement. A blade analysis, which covers blade alignment and contact angle, may also help you decide if the current type of blade you are using is appropriate for your application or if you should switch to another type.