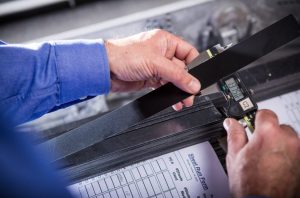 Graphite composite blades need to be effective if they are going to deliver the results you are after. Similar in function to standard metal blades, these graphite doctor blades are perfectly manufactured to be used for flexo applications with laser engraved ceramic anilox rolls that have less than 500 LPI screens.
Featuring graphite lubricating characteristics, these blades offer a long lifespan when they are being used with abrasive water-based inks on large ceramic anilox rolls. These doctor blades are provided in a seal relief shape, which helps to reduce end seal distortion at the blade. It is also effective at reducing end seal ink leakage.
Graphite doctor blades are typically used for the creation of higher-end graphics in corrugated applications. You will be able to find these blades in 20, 25, and 35 mil thicknesses. Finding the right combination of material, shapes, and thickness is a must if you are going to get the results you are after when it comes time to work on your project. That is why you must work with an educated manufacturer to discuss your needs so they can guide you towards the perfect option to fit your specific needs. The right choice delivers the right results.