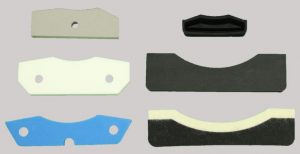 End seals are a vital part of modern printing applications. With today's CAD-driven processes, these valuable components are easy to customize in accordance with your operation's needs. Turn to a company that offers specialized cutting equipment and enjoy all of the benefits of contemporary custom seals, including:
Personalization – Depending on your equipment and its intended use, any number of specific designs might be necessary to deliver the right results when you print. Because seals made with CAD-driven technology are easy to customize and create using various materials, they offer tailored precision without a hassle. Some of the available materials include foam, rubber, felt, and composite.
Replication – Since CAD systems can easily replicate an existing design, even highly customized variants are easy to reproduce with quick turnarounds. This is ideal for larger operations in need of numerous seals, as well as ensuring that quality replacements are easy to obtain when needed.
Cost-Effectiveness – In addition to saving time and delivering dependable results, CAD-driven cutting equipment creates the seals you need without breaking the bank. Those savings don't come at the cost of quality, either. Superior to die-cut equipment, these designs help you avoid issues like warpage, concave edges, and chamber leakage.