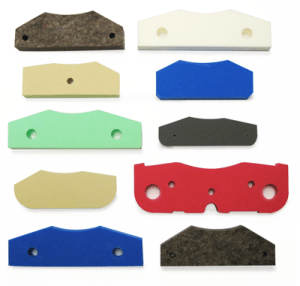 When it comes to printing, consistency and quality will make or break your enterprise. Many printing firms are turning to custom end seals as a way to ensure they are getting the best possible results. Custom parts that fit your equipment are a great way to enhance your productivity while improving your business's cost-effectiveness.
End seals are an essential component of your production processes. However, that never means you have to settle for the same end seal you are currently using if it is leaking or causing other problems. With a custom end seal, you can adjust the shape or material of the end seal to help solve issues with the current design.  End seal geometry can vary slightly from OEM specs, especially if you have switched suppliers one or more times.  Slight changes in geometry can cause the end seal to not mate with the doctor blade or anilox roll as it should and create leakage points.  If necessary, the material used to produce the end seal can also be adjusted to better match your current run conditions.
By working with Allison Systems, you will find it easy to keep up with the demands of your business. Request a consultation with us to learn about your options.