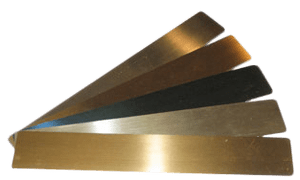 The doctor blade is a crucial component of the flexo printing and gravure printing processes. It removes ink from the surface of the roller so that the intended volume of ink can be transferred. In this article, we will discuss the advantages of steel doctor blades.
When quality is your production priority, you cannot go wrong with a steel doctor blade. Blades made with this material are specially manufactured so that printing processes generate consistent, high-quality results. Many printers prefer steel doctor blades because they are:
Cost-Effective: Carbon steel is highly economical. Its durability makes it an excellent choice for short-run production jobs, as well as projects that use non-porous substrates or inks that are not very abrasive.
Durable: Doctor blades crafted from tool steel are designed with longevity and toughness in mind. Abrasive inks, such as white inks or those containing titanium dioxide, solids, or rough anilox rolls, can cause wear and tear due to friction. Tool steel doctor blades can withstand the abuse.
Long-Lasting: One significant cost in the printing production process arises from press downtime due to the need to change or adjust the doctor blade.   Many grades/types of steel and edge shapes are available so that you can choose the best option for the application.  Running long life tool steel in high wear applications and other grades in less demanding setups will help ensure that all of the blades will need replacing at the same time.  By replacing blades less often, you will save on production costs.
There are many advantages to running steel doctor blades. Contact Allison Systems to learn more about your options.