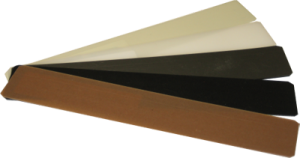 Doctor blades are the key to successful production but choosing the best one for your needs is often a complex process.  You need to know your intended application, as well as the advantages and drawbacks of different blade types.  Fortunately, we are here to help. Before you order new blades, consider some of the best uses for two styles you can buy:
Metal Blades – The material of choice for high-quality and repeatable doctoring results, these blades come in several forms. Each one has its advantages, such as the long life of tool steel blades or the corrosion resistance of stainless steel. The important thing to remember is that metal should be your go-to for doctoring that's consistent across numerous jobs.
Plastic and Composite Blades – Certain flexo, coating, and gravure applications require cost-effective performance but not necessarily the benefits of metal blades. A couple of examples would be applications that use low screen count anilox rolls or corrugated applications.  You can count on plastics and composites to deliver this performance. These blades tend to have a long life at high speeds and are ideal for use on laser-engraved ceramic anilox rolls.
Are you still unsure which blades you should buy? Don't be afraid to ask an expert! A reputable supplier should be happy to work with you to determine the best product for your situation.