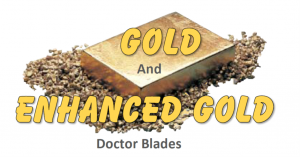 When you are looking for the highest quality parts from trusted doctor blade suppliers, choose those offered by Allison Systems, your source for doctor blades. We manufacture premium products that help your printing press operate more efficiently. Our Gold Series of blades is ideal for rotogravure and flexographic applications.
The doctor blades we produce are engineered to prevent ink spitting, hazing, and streaking. We achieve this by manufacturing two options with distinct beveling to best suit your cylinder. When you work with our products, you can count on reliable performance from a blade that always wipes your cylinder clean.
In addition to enhancing the quality of your prints, our blades help to reduce cylinder damage. With unique metallurgical properties, our Gold Series blades produce smaller wear particles than are typical of other steel blades. This means that during your production process, you won't generate the slivers that, over time, wear down the cylinder.
As your supplier of doctor blades, you can count on the highest standard of customer service. We look forward to taking your order and sending you the product that won't let you down. Should you have any questions, the talented team at Allison Systems is here to take your call.